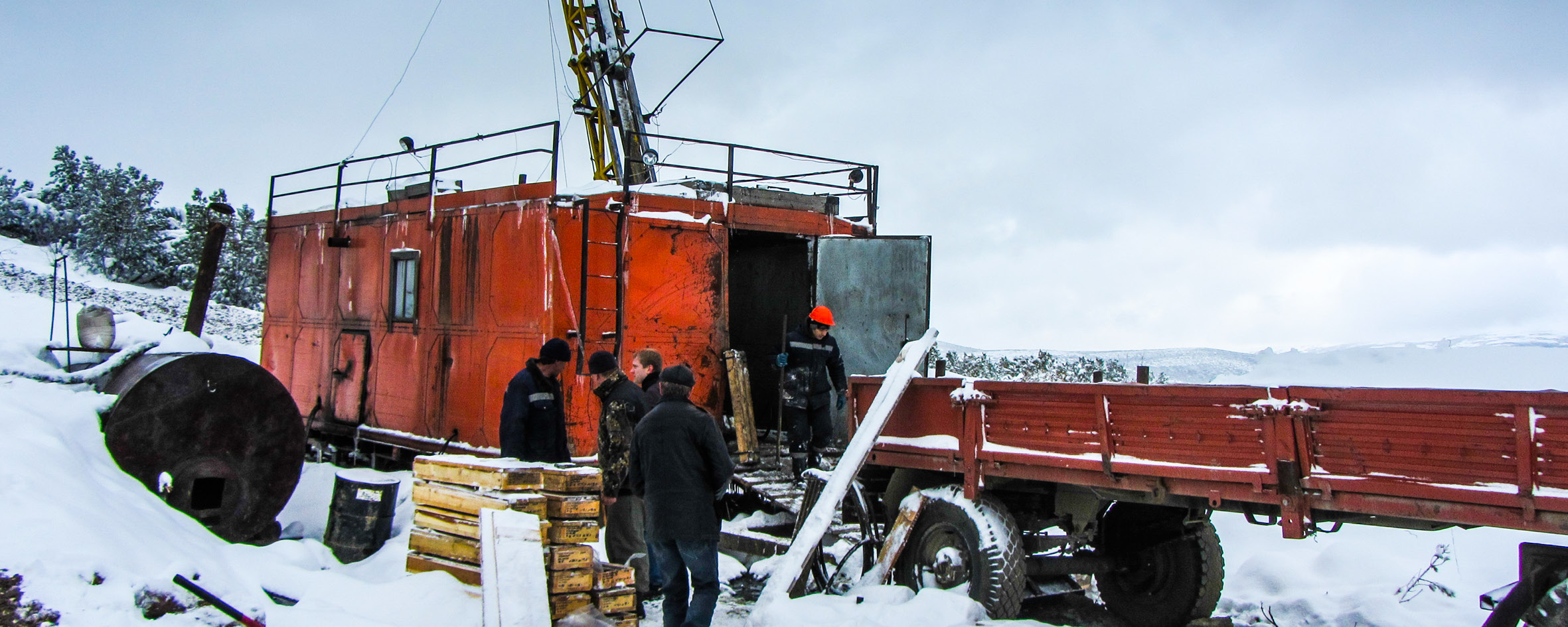 CONDUCTING GOLD MINING ACTIVITIES IN RUSSIA
The Russian system for conducting exploration and mining operations is based on a detailed and objective description of how the process should be conducted. It includes specifications for exploration methods, calculations of mineral resources and reporting.
The end result of the exploration work is a three-dimensional model of a gold bearing ore body, the content of which can be calculated through measuring concentrations in the ore and calculations of the volumes.
"Bankable" exploration report
As exploration work continues and develops, knowledge about a deposit grows. In general, the amount of accuracy increases as a result of the number of holes and density between them. The end result of a project is thus an estimation of the deposit that is as accurate as today's technology, knowledge and methodology allows for. A finalized exploration report, conducted according to a generally accepted standard, constitutes the basis for a decision whether profitable production is possible. Gold deposits that have been confirmed according to an accepted standard are often considered as providing enough security to be granted bank loans in order to finance acquisitions or production plants and may be highly valued even before production has been initiated.
Exploration activities are conducted in several stages, with a decision taken to proceed or not with further explorations after each stage. International classification systems (for example JORC, NI 43 101 and SAMREC) provide guidelines and a clearly defined reporting system, in which a competent person is responsible for the final results. These reports are based on the transparency, competency and relevancy of the competent person as well as the operations and process that are being evaluated.
The Russian system leaves less scope for professional estimations, being more based on a detailed and objective description of how the process should be conducted. It includes specifications for exploration methods, calculations of the mineral resources and reporting. All approvals of calculations of mineral resources and ore reserves in Russia are made by GKZ, which is the state authorities dealing with major deposits. On the regional level GKZ is represented by its branches, TKZ, which deals with the majority of deposits in Russia.
Mineral resources and ore reserves
The Russian system uses a distinct system to classify mineralizations according to a number of qualities and characteristics. There are three main categories and seven sub-categories:
Explored reserves and resources (A, B and C1)
Examined reserves and resources (C2)
Forecasted resources (P1, P2 and P3).
When deciding on commencing mining operations, normally the categories A, B, C1 and C2 are taken into consideration. This means that these categories could be roughly compared to the international system when it comes to measured and indicated ore reserves. The international system is based on a similar system, in which the categories "inferred", "indicated" and "measured" refer to less certain estimations of the mineral resources. When denser test drilling has been performed, the deposit will be classified as an "ore reserve", which, in turn, can be divided into "probable" and "proven".
Legal framework
In accordance with the Constitution of the Russian Federation, mining and mining rights are a joint competence of the Russian Federation and its constituent bodies. As a result, the mining legislation comprises federal legislative acts and regional legislative acts. The most important of the federal legislative acts are the Subsoil Law, the Law on Dangerous Production Facilities and the Law on in Precious Metals and Precious Stones. As a general rule, both Russian and foreign individuals as well as legal entities (joint ventures) can be holders of mining rights.
Terms of mining rights
Terms of mining rights differ based on the type of mining rights and type of deposit; for instance, mining rights for extraction of natural resources can be granted for a term specified in the technical and economical substantiation concerning the particular mining area.
Grounds for provision of mining rights
The Subsoil Law enumerates various grounds for provision of mining rights, including:
Decision of the Government of the Russian Federation­
Mining auction
Succession in interest – for legal entities (joint ventures)
Production-sharing agreements
The most important document which evidences the existence of mining rights is the license. The license is issued by statutory authorities and is supplemented by the mining terms and conditions or contract. The mining terms and conditions cannot contravene the provisions of the license. Licenses can be suspended, revoked or limited if a holder of mining rights (the license-holder) violates the Subsoil Law or requirements or obligations set forth in the license or, as the case may be, in the mining terms and conditions and the contract. Suspension, revocation or limitation of the license can be challenged either in court or administrative proceedings.
Industrial safety and dangerous production facilities
Both the Subsoil Law and the Law on Dangerous Production Facilities impose quite stringent requirements and obligations on the holders of mining rights. In most cases, gold mines, areas and occurrences are qualified as dangerous production facilities. Hence, the requirements and obligations thereunder are applicable to the holders of mining rights for gold mining areas and gold occurrences. Holders of mining rights for gold mining areas and gold occurrences are supposed to have the following documents:
Development plan approved by relevant statutory authorities
Insurance contract (policy) which covers liability arising out of, or in connection with, potential harm to life and health of people, their property and the environment
Documents proving employees' qualification in the sphere of industrial safety
Documents on inclusion of dangerous production facilities in the State Register of Dangerous Production Facilities
Documents proving the personnel engaged in works on the dangerous production facilities is equipped with the required individual and collective protective gear and equipment
Gold refining
The Law on Precious Metals and Precious Stones directs that extracted and produced precious metals shall be placed for gold refining to legal entities certified by the Government of the Russian Federation. However, holders of mining rights remain owners of precious metals and precious stones placed for gold refining unless otherwise agreed with gold refining companies.
Law on strategic deposits
In 2008, Russia introduced legislation relating to strategically and nationally important industries and assets, including certain mineral resources. A gold deposit of over 50 tonnes is considered to be of national significance, and thus falls within this legislative framework. The Act means among other things that only Russian companies can hold these assets and that the authorities have certain rights relating to a strategic resource and the companies that exploit it, including appointing directors. The government may deny a foreign investor in a Russian company to develop a strategic deposit, in exchange for reimbursement of costs incurred according to a particular model.
The system of taxes and payments
The Subsoil Law delineates the system of taxes and payments for the mining industry. The system includes:
Natural Resources Extraction Tax (NRET) and other taxes, as provided by the Tax Code
Regular mining payments
Non-recurrent mining payments
Natural resources extraction tax (NRET)
Legal entities and sole entrepreneurs – users of subsoil resources – shall be considered as taxpayers. Extracted natural resources shall be considered as the object of taxation. The tax base is to be determined by the taxpayer with regard to every type of extracted natural resource, generally, as the value of extracted natural resources. The tax period of NRET is one calendar month. Tax rates depend on the type of the mineral resource. For gold, the current applicable tax rate is six per cent. The quantity and value of the extracted natural resources is determined directly (through the application of measurement means and devices) or indirectly (by means of calculations, by the data on the content of extracted natural resource in a natural raw material (waste, lost rock) extracted from subsoil). Regular mining payments may refer to annual payments for license holders regarding subsoil use for purposes of search, assessment and exploration, and water tax for the use of water on the license areas.