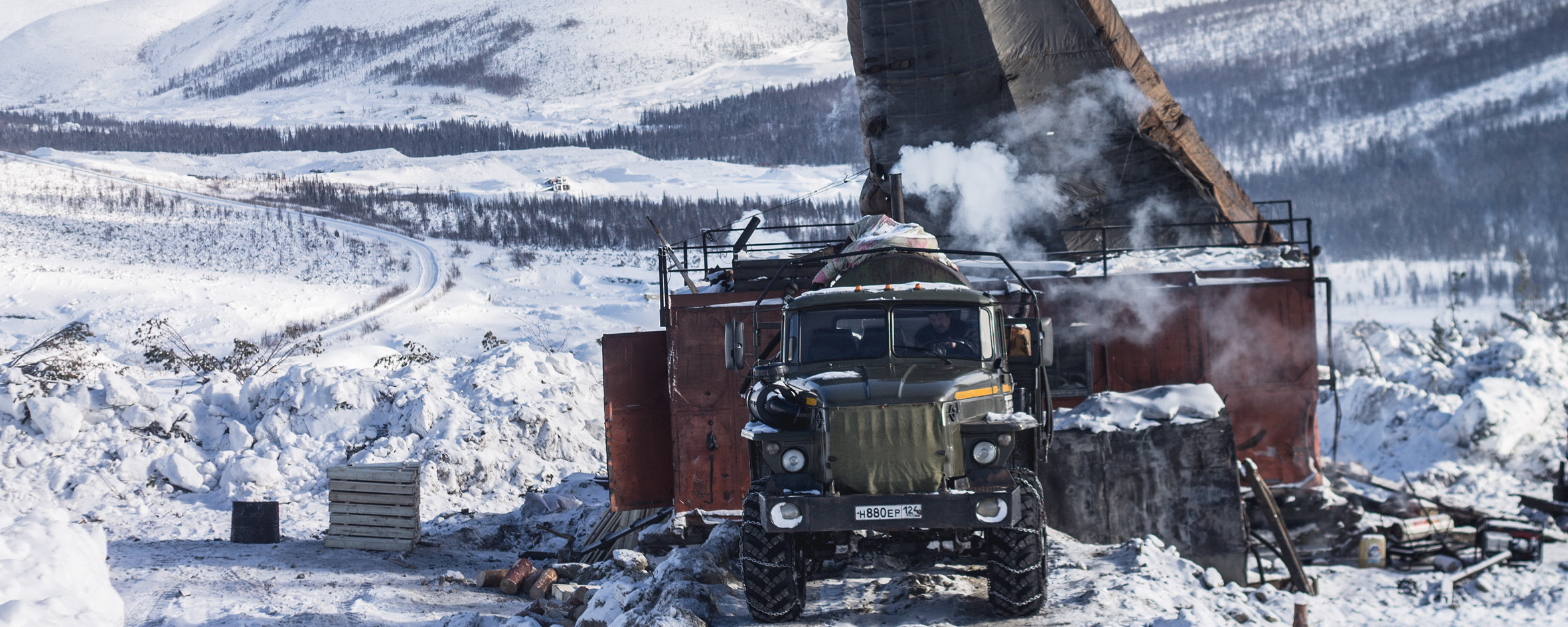 Kopy Goldfields' operations consist of exploring for the presence of gold within areas for which the Company holds licenses for gold exploration and production. The goal is to identify the gold deposits with the highest potential for future development into mineral reserves – ultimately resulting in gold production with a cooperation partner or a cash sale.
Kopy Goldfields' exploration work is conducted in several stages and based on methods such as studying historical data, electric and magnetic surveys, soil sampling, trench sampling, drilling, analysing, evaluating and modelling, each of which requires great experience and knowledge for correct interpretation. 
Some of the license areas controlled by Kopy Goldfields in Lena Goldfields were subject to bedrock exploration by Soviet geologists in the 1960'-80's. Exploration work after acquiring a new licence typically starts by reviewing this historic exploration data. The next step is to locate geological anomalies and get a first indication of a mineralization. Airborne surveys are sometimes used for covering large areas. 
Once indications of a mineralization have been located, the next step is soil sampling and electric-magnetic surveys. These steps of the exploration process are relatively cheap, as they do not require soil and rock movements. As a result of these surveys, a number of soil gold anomalies are identified and the best of them are promoted for further explorations. The next step is trenching to evaluate the bedrock gold anomaly at the surface. The topsoil is removed, a ditch is excavated, and trench samples are taken along the line drawn along the floor of the ditch. Along this line, geologist use saws for cutting out mineral samples. These samples are then sent for analysis to identify gold content.
Drilling and evaluation
If surface samples indicate gold contents above common cut-off grades, the next step is drilling to evaluate the mineralization at depth. RC stands for Reverse Circulation and entails rock fragments – drill cuttings – being blown upwards, using compressed air in such a way that no contamination or mixing up of the samples can take place. The drill cuttings are chartered and sampled for chemical analysis. Core drilling is a method where you collect a core from the drill hole in order to analyse the grade, geology and structure of the mineralization. 
As a rule of thumb, only one out of a hundred gold mineralizations identified ends up being a producing mine. The exploration process involves many phases, and costs increase as the project approaches a potential production start-up. Once the exploration work is completed, the deposit is evaluated to determine whether the technical and economical preconditions exist for starting a new mine. 
Reporting according to JORC and GKZ
Kopy Goldfields has decided to report all new mineral resources in accordance with the international JORC Code (Australasian Joint Ore Reserves Committee), which is sponsored by the Australian mining industry and its professional organisations. Resources are also reported according to GKZ rules, the Russian mineral reporting standard. JORC and GKZ reports, although using similar basic geological principals of resource calculation, are drafted under different framework and reporting procedures and therefore usually provide different estimations of resources and particularly reserves. This means that the outcome from the JORC report will not necessarily be the same as from the GKZ report. Developing and filing a GKZ report is a statutory responsibility for a Russian mineral producer to enable mineral production.
When accepted by the Russian authorities, the GKZ report creates rights and obligations for a Russian producer in terms of annual production levels and gold recoveries/losses through mineral processing. It is also used as a basis for calculation of various taxes and commitments. The JORC-report is a globally accepted standard of reporting mineral resources and as such, the JORC-figures may be used when communicating with investors, banks or other international stakeholders.